One Step Closer : a Tribute To Linkin Park, 10th September
Berita Lain di www.lpfisite.com - Linkin Park Fans Indonesia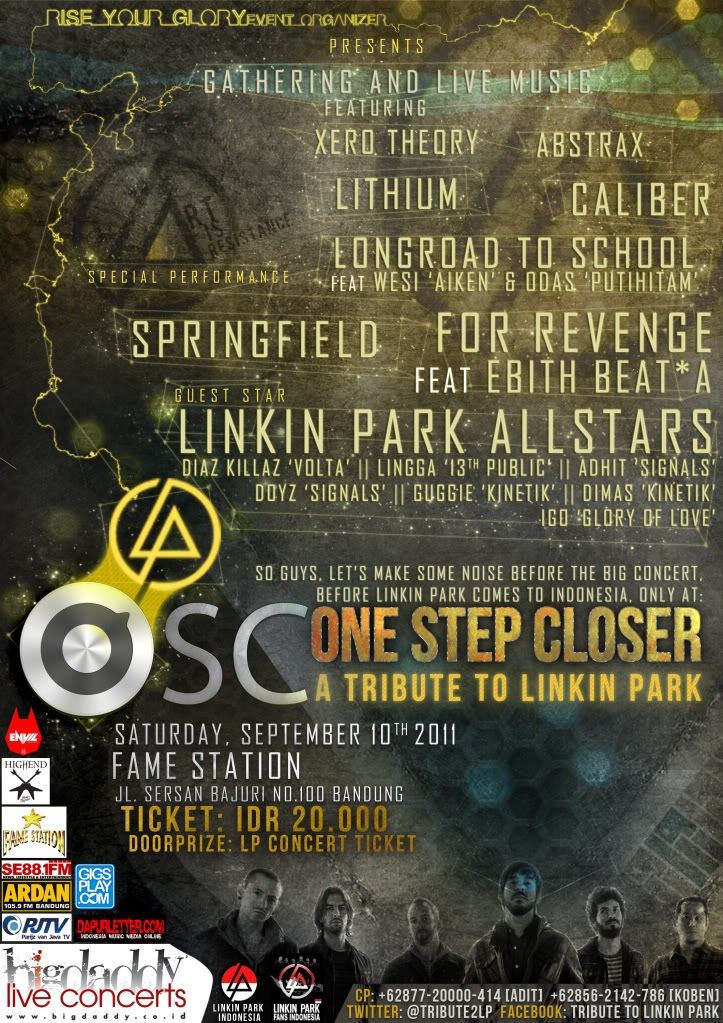 Hadirilah acara One Step Closer : a Tribute to Linkin Park, 10 September 2011. Bertempat di Fame Station Bandung, Jl. Sersan Bajuri - Bandung. Harga tiket IDR 20.000, tiket dapat diperoleh di SE Radio 88.1FM Jl. Cihampelas No. 129 Lt. 6, Bandung atau hubungi
@SandiKoben
&
@adithyaearly
atau dapat diperoleh saat on the spot. Dan DAPATKAN DOORPRIZE LP TICKET CONCERT...!!!
Info lebih lanjut tentang One Step Closer : a Tribute to Linkin Park ini silahkan klik
@Tribute2LP
,
Facebook Tribute to Linkin Park
,
Tribute to Linkin Park Site
,
@SandiKoben
&
@adithyaearly
PRESS RELEASE
Acara One Step Closer: A Tribute to Linkin Park yang akan dilaksanakan pada tanggal 10 September 2011 dimulai pukul 17.00 WIB sampai dengan selesai. Bertempat di Fame Station, Jl. Sersan Bajuri no 100 Bandung. Sasaran utama dari acara ini adalah fans Linkin Park yang ada di seluruh Indonesia, serta masyarakat luas yang ingin tahu banyak mengenai Linkin Park.
Konsep yang disuguhkan sesuai dengan nama dan tema acara, yaitu "One Step Closer : A Tribute To Linkin Park", All About Linkin Park.
Music, menampilkan 8 band yang akan membawakan lagu-lagu Linkin Park sesuai dengan aliran musik dari masing-masing band tersebut.
Community, lebih memperkenalkan komunitas Linkin Park yang ada baik regional maupun nasional.
Play on Screen, sepanjang acara akan menampilkan video-video clip Linkin Park, serta penampilan dari para pengisi acara (with and without audio).
Acara yang diharapkan menjadi acara tahunan yang didukung oleh fans Linkin Park di Indonesia dari berbagai daerah di Tanah Air tentunya akan menjadi ajang berkumpul serta bersilaturahmi bagi para penggemar Linkin Park. Sebagai tambahan acara ini diharapkan menjadi ajang apresiasi dan honorisasi terhadap Linkin Park.
Penggemar Linkin Park yang datang juga bisa membeli tiket konser "Linkin Park: A Thousand Suns World Tour 2011" yang akan diselenggarakan di Stadion Utama Gelora Bung Karno (GBK), Jakarta pada tanggal 21 September 2011 langsung di tempat.
"Let's Make Some Noise Before The Big Concert"
One Step Closer : a Tribute To Linkin Park, 10th September
Reviewed by
Adelia
on
11:29:00 AM
Rating: